If you're somebody who frequently goes backpacking or hiking, you understand that after a long day's excursion (or the day after), you'll likely be sore. Sure, taking rests can be helpful to give your muscles a break, but you should also be doing all you can to ensure that you're not tiring your muscles out in unnecessary ways.
This is why being comfortable at the beginning of your trip can help you not just stay comfortable throughout your trip, but also avoid being sore and excessively tired in the days after. For me, I know that a huge part of feeling exhausted and uncomfortable towards the end of long trips is about how my feet are feeling.
To address this, over the years I've begun to incorporate down booties into my hiking gear.
For those of you who are unaware, down booties are a type of soft boot that can help keep your feet cushioned while hiking. Think of them as outdoor slippers!
Not only will they keep your feet comfortable while outside, but they'll also provide you with insulation so your feet aren't too cold at night.
Sounds great, right? If you find the right pair for you, they truly can be!
However, the market for hiking booties is so vast that it can feel difficult to know just where to start.
This is why I'm here to help. I've scoured the internet to find some of the best hiking booties available and want to share with you what I think are the 5 Best Down Booties for Hiking:
1. Baffin Base Camp Slipper – Overall Top Choice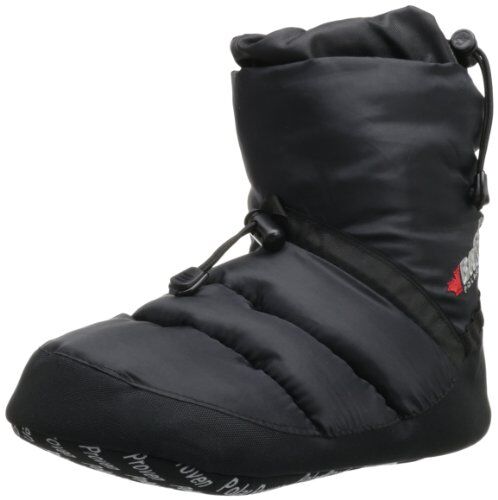 At the top of my list is this pair of Baffin Base Camp Slippers. If you're somebody who wants to try something that is truly comfortable and durable, this is definitely the product for you.
Not only is each slipper made of durable nylon with synthetic soles, but each one also feels incredibly comfortable and flexible to put on. I especially love how each bootie has a unique dual bungee adjustability feature that keeps the warmth in, making it possible to never feel too cold while on a trip.
There's also no difficult clean-up after extensive use, as each bootie is machine washable and incredibly easy to maintain. Though this isn't one of the most notable things about these products, the fact that you can get the product in eight different colors (Charcoal, Hyperberry, Espresso, Black, Dusk, Navy Blue, Electric Blue and Merlot) is a huge plus and a great inclusion for a truly customizable product.
Though the price of these are on the higher end of moderate as far as down booties go, they're truly wonderful and definitely worth the purchase for anyone looking for something that will last.
Pros
Unique dual bungee feature keeps warmth in
Comes in 8 different colors
Made from durable nylon
Cons
Price might be prohibitive for some
Last update on 2023-09-13 / Affiliate links / Images from Amazon Product Advertising API
#2. Western Mountaineering Standard Down Bootie
As the most expensive item on my list, this is a good example of a truly premium product. Western Mountaineering is notorious for making products that last, built especially for those who go hiking in some of the toughest conditions possible.
As a result, these booties come with premium thermal foam that is especially effective in very cold conditions. This is combined with an 800-fill European goose inside that also allows your feet to feel very comfortable.
The outside Toughtek lining can also withstand significant amounts of rain, keeping your feet completely safe and protected no matter what.
One of my only gripes with this product is that sometimes the drawcord is difficult to use, getting stuck or being a bit rough on one's Achilles' Heel. However, this typically happens to me when I need to adjust something on the fly, so if you take your time to adjust your booties before hiking you should have no problem.
The price might be prohibitive for some, but those who engage in particularly intense hiking trips on a regular basis will definitely benefit from investing in such a high-quality product.
Pros
800-fill European goose inside keeps them heavily insulated
Toughtek lining is strong against heavy rain
Durable and long-lasting
Cons
Price might be prohibitive for some
Drawcord is sometimes difficult to adjust
Last update on 2023-09-27 / Affiliate links / Images from Amazon Product Advertising API
#3. AEGISMAX Down Booties Down Socks Warm Soft Slippers
Perhaps you're not somebody who goes on regularly intense trips, instead just needing something to use every once in a while when you're hiking in the snow or rain. These booties are great options for those who don't hike frequently but still need something that works!
I was able to test them out by going on a hike in light rain and was happy to find my feet staying dry and warm throughout the day. On top of this, the outside shell is waterproof, making them not slide as easily and be able to take on a significant amount of water.
I also really liked the 90% white duck filling, as it felt like I was walking on clouds all day!
However, something that should be noted is that if you're hiking around areas that have particularly rough branches or other types of terrain, these booties won't protect you from everything. For example, I found some scratches that might have turned into tears in the outer shell if I hadn't noticed in time.
However, if you're somebody who just wants to stay warm while hiking around your local trails, this is a perfect option! You also can't beat the affordable price!
Pros
Waterproof outside shell
90% white duck filling is comfortable and insulated
Doesn't slip easily
Very affordable price
Cons
Outside prone to scratches and tears
#4. Teva Ember Moc Booties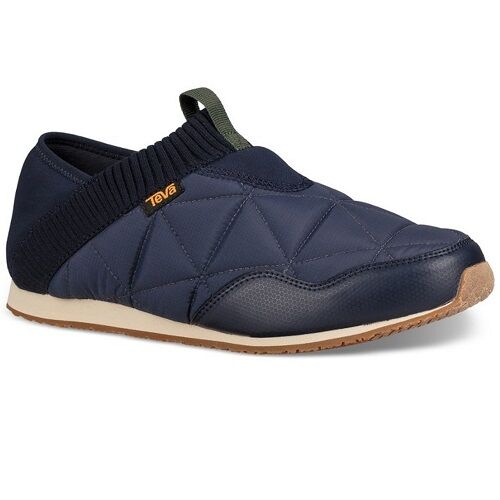 It's worth noting that booties aren't necessarily for everyone. They can be quite bulky, requiring one to feel comfortable with both the specific aesthetic and the sensation they create.
In some ways, booties can feel like mittens—they help your hands stay warm, but many people don't like how bulky they feel.
If you're somebody who isn't very interested in the bulky aspect of booties but still wants to protect your feet, I recommend looking into these Teva Ember Moc Booties. Not only do they provide your feet with comfort, but they look pretty elegant!
They are more along the lines of shoes, though, and definitely shouldn't be taken on very intense hiking trips involving storms. They are wonderful camping shoes, though, with polyurethane footbeds that give support.
On top of this, they're also good for basic hiking, with rubber outsoles that give you good traction on rough surfaces.
If you are somebody who has trouble walking excessive distances in general, you'll also love the EVA foam midsoles that cushion your feet. They're also very easy to take off and put back on at a moment's notice, having a very comfortable collapsible heel.
However, if you're looking for hiking booties to take with you on intense trips, this is not the most sensible option.
Pros
Polyurethene footbeds give support
EVA foam midsoles provide cushioning
Sleek, shoe-like appearance
Rubber outsoles give good traction
Cons
Not built for intense trips
Price might be prohibitive for some
#5. Holiberty Waterproof Cozy Down Warm Fleece Bootie Shoes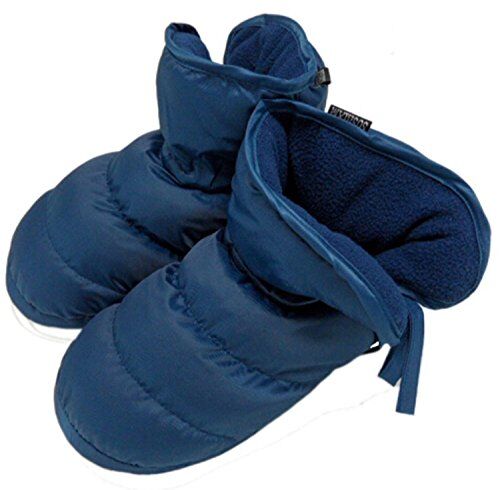 As the cheapest item on this list, these Holiberty Waterproof Cozy Down Warm Fleece Bootie Shoes are a great option for someone who wants an affordable product that still works well as a great pair of booties. They not only come in 4 different colors (Brown, Rose Red, White and Navy), but also have wonderful anti-skid rubber soles that give you traction and are durable.
They're also great booties in general to have around the house, making them very multi-purpose for those who want house slippers that they can also take hiking. The fleece on the inside also makes sure that your feet will be sufficiently warm at all times!
The only downside to these booties is that they're admittedly not as well-built as others, making them not ideal to take on incredibly intense hiking trips. However, they're a great and affordable option that will get the job done!
Pros
4 different colors to choose from
Anti-skid rubber soles
Affordable price
Cons
Not as well-built as other brands
Holiberty Waterproof Cozy Down Warm Fleece Indoor Slippers Bootie Shoes Ankle Snow Boots
Our premium slippers come with a thick fleece plush and down lining and a breathable polyester surface. High top style slipper boots with elastic ankle opening provides a snug fit and keeps out the cold wind. Buy yours today and wrap your feet with these slippers. You will get the best warmth, soft and comfy experience
The water-resistant surface makes these furry slippers long-lasting and protective, Ideal for indoor as bedroom slipper, house slipper, indoor shoes and for outdoor as camping slipper, backpack slipper. Designed for adults women & men wearing in winter autumn spring seasons
Our indoor thermal slipper boots are designed with slip-on design for easy to put on and take off; With high-density memory foam insole, you can be sure to have support and comfort. After a hectic day, you can relieve the stress of your feet and relax every toe with a soft and dry touch
Anti-skid and wear-resistant rubber soles, no deform and no scuff to the floor. You can wear these indoor slippers safely at home bedroom kitchen dining study room office hotel airplane. Idea for cold weather snow days house-wearing, travelling, working, driving, camping,etc
Kinds of types and sizes for choices; Our lightweight and cozy bootie slippers are ideal gifts for your families, friends, colleague and yourself. Share the warmth with them on birthday party, housewarming, thanksgiving day, Xmas day, new year, among other special events
Last update on 2023-09-18 / Affiliate links / Images from Amazon Product Advertising API
What did you think of my list? Are there any booties that you own? Any that you're interested in trying out? Let me know what you think!