If you're a plus size hiker, it can be hard to find gear that works for you. 
And there's one piece of gear that can be totally miserable if it doesn't fit your body right:
Your sleeping pad.
If you've never experienced what this is like, just partially inflate your sleeping pad and lay on your side.
See how your hip is grinding into the ground?
Now lay there for 8 hours and see how you feel in the morning.
It sucks. And if you weigh more than what the sleeping pad manufacturer built the pad for, you can't fix this no matter how much you inflate the sleeping pad.
Thankfully the fix is easy enough. Just buy a different sleeping pad that was made for you!
Here's a run down of the best sleeping pads for overweight side sleepers, starting with my top choice.
Big Agnes Q Core SLX - Best Sleeping Pad for Heavy Hikers
The Big Agnes Q Core SLX is thick.
When it's fully inflated, this sleeping pad is almost 4" thick so you don't have to worry about your hips touching the ground at all.
It's also super comfortable and still lightweight, with the large/wide model weighing just 22 ounces.
Pro Tip!
For all of these sleeping bags I'm about to go through, you should look for the Long and Wide version. These pads will be larger and more comfortable than the regular sizes.

Top Choice - Big Agnes Q Core SLX
The Q Core SLX is one of the nicest sleeping pads out there. It's luxurious thickness and comfort is the reason so many people love this pad.
This extra thickness is also what makes it so comfortable for overweight hikers. Fully inflated, it measures just under 4" thick which means you don't have to worry about bottoming out having your hips push into the ground while you're sleeping.
Last update on 2023-09-28 / Affiliate links / Images from Amazon Product Advertising API
Exped Synmat 7
The Exped Synmat 7 is another thick sleeping pad that provides tons of cushioning to keep you off the ground.
The Synmat 7 weighs 2.4 pounds which is twice as heavy as the Q Core SLX.
The tradeoff for this extra weight is that the Synmat costs less than the Q Core SLX so if you're on a tight budget, the SynMat is a good choice.
Another plus for the Synmat 7, it has a built in pump so it doesn't take any effort to inflate.

Last update on 2023-09-28 / Affiliate links / Images from Amazon Product Advertising API
Klymit Insulated Static V Luxe
Klymit makes some really nice, affordable sleeping pads like the V and the V2.
They have a thicker version of this sleeping pad called the V Luxe.
The V Luxe is 3 inches thick and has an R value of 4.4.
The bad part? It weighs 3 pounds.
BUT! It's super cheap. Half the price of the Big Agnes Q Core SLX.

Last update on 2023-09-28 / Affiliate links / Images from Amazon Product Advertising API
NEMO Tensor Insulated
NEMO makes some really nice backpacking gear, including sleeping pads.
Their Tensor sleeping pad uses lateral baffles compared to vertical ones found in most sleeping pads.
Combine that with a 3 inch thickness and you've got a comfy sleeping pad.
It weighs in at 1.5 pounds for the long/wide version and is in the middle of the pack in terms of price.

Last update on 2023-09-28 / Affiliate links / Images from Amazon Product Advertising API
Sea to Summit UL
The Sea to Summit UL sleeping pad isn't as thick as some of the other options I've covered.
It's only 2" thick but it weighs just 21 ounces.
Instead of having horizontal or vertical baffles, the S2S UL pad has 225 individual air filled cells.
This helps keep your body elevated off the ground since there's nowhere for the air to go like there is in pads that use long baffles.
Sea to Summit Comfort Plus
If you're looking for a sleeping pad that's a little beefier than the UL, Sea to Summit has another line of pads called Comfort Plus.
Even though it looks similar to the UL line, the Comfort Plus is slightly thicker and has a staggering 420 air sprung cells.
With twice as many air cells as the UL, this pad is half an inch thicker and will easily keep your body off the ground. 
This pad is super comfortable and has tons of raving fans.
Exped Synmat Mega 12
Unfortunately this pad is discontinued so you'll have to look on eBay if you want to find one.
But this pad was glorious. Measuring 4.7" thick, it's a beast and it's crazy comfortable. Just take a look at it.
Alternatives to Sleeping Pads
Before you plunk down the cash to buy a brand new sleeping pad, you should consider some alternative options.
These aren't for everyone and you'll want to do a test overnight before you go all in and plan a through hike with a new sleeping method.
But these worked for a lot of people that have issues with sleeping pads so they're worth considering.
Use a CCF Pad Underneath Your Sleeping Pad
Alright, so this one will still involve buying more gear but it's cheap and lightweight.
All you do is buy a closed cell foam sleeping pad like the Z Lite Sol and put it under your inflatable sleeping pad.
If your inflatable pad is bottoming out on the ground, this will give you a little bit of cushioning underneath it.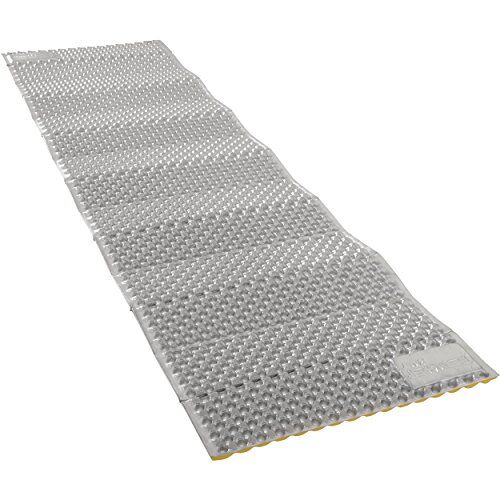 Last update on 2023-09-28 / Affiliate links / Images from Amazon Product Advertising API
Use A Cot
If you want to be 100% sure you'll stay off the ground when you're sleeping, a cot is a viable alternative.
The obvious downside is that these things are heavy and bulky, but the ultralight cots are actually on par with some of the bigger inflatable sleeping pads.
Cots tend to cost less than sleeping pads and weigh at least 2-4 pounds for the ultralight versions.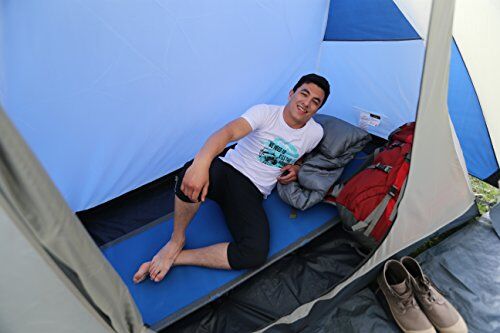 Last update on 2023-09-28 / Affiliate links / Images from Amazon Product Advertising API
Try Hammock Camping
The final option is to switch to using a hammock. Sleeping in a hammock seems to be a love/hate thing. There aren't many people that are on the fence and alternate between hammock and ground camping.
But if you try it out and like it, you definitely won't have to worry about your hips digging into the ground while you're trying to sleep.
If you sleep in a hammock you'll want to try using an inflatable pad with the hammock. If you don't have some insulation between your body and the hammock you can lose a lot of body heat.
Remember that the sleeping bag underneath your body gets compressed and doesn't do much insulating so you'll still need a pad of some sort.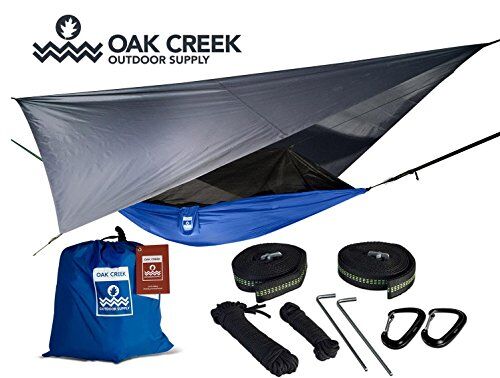 Last update on 2023-09-28 / Affiliate links / Images from Amazon Product Advertising API
Final Thoughts
A lot of ultralight gear is made for ultralight people. But don't let that stop you from enjoying the great outdoors. There's gear made for everyone and what works for one person may not work for another. 
The best thing you can do is to try different sleeping arrangements out until you find one that suits you. There aren't many things more important than getting a good night's sleep when you're out in the wilderness!