The key to an effective layering system is adaptability. You want to be able to adjust what you are wearing to fit the current situation.
This keeps your body temperature at an even, comfortable level throughout the day. Typically, this means buying many different products—including base layers, fleece layers, insulated jackets, and non-insulated shell layers designed to protect against wind and rain.
Sometimes, products from different manufacturers might work well on their own, but they don't always fit together quite right into a functional, well-fitting system.
3-in-1 jackets offer a solution to this problem: with a single purchase, you get an adaptable piece of equipment allows the insulated and shell layers to be seamlessly integrated together, or broken down and used separately.
You can wear either the insulated layer, the shell layer, or both, for 3 possible configurations. 3-in-1 jackets solve the hassle of needing to pair these two layers yourself, and they let you get full outdoor protection in a single purchase.
Here are the five best 3-in-1 jackets on the market right now:
North Face ThermoBall Snow Triclimate 3-in-1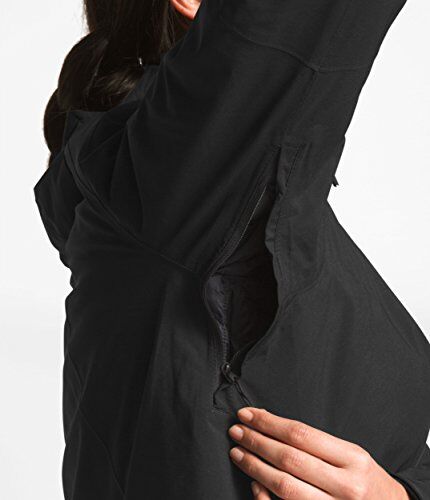 The North Face's ThermoBall jacket is a popular puffy-style insulating jacket, and the ThermoBall Snow Triclimate integrates it into a versatile layering package. The ThermoBall has synthetic insulation that can keep its insulating ability even when wet, unlike normal down insulation.
The insulation is sewn into small pockets that help keep it evenly distributed throughout the jacket, preventing clumping and cold spots. This warm inner layer pairs to a wind- and rain-resistant shell layer to help complete the package.
The ThermoBall Snow Triclimate comes with a large hood that can fit over helmets, and has an extra-long parka-length reach, offering protection well below the hips. This makes it especially useful for winter sports like skiing and snowboarding.
Pros
On the lighter end, at 3 lbs 0.3 oz for men's, 2 lbs 13.8 oz for women's

Warm, well-designed insulating layer

Winter sport features

Overall, a great-looking jacket
Cons
A little expensive, with an MSRP of $349

Not everyone will like the extra length
THE NORTH FACE Women's Thermoball Eco Triclimate Jacket, TNF Black, X-Large
Standard fit; with allowance for a zip in compatible inner jacket or additional layersExposed, reverse coil center front zip with internal draft flap; Standard fit; Solid Liner: 100% Nylon
Waterproof, breathable, seam sealed, stretch DryVent 2.5L shellCovered, secure zip hand and chest pockets; ThermoBall insulation in the body and collar; Printer Liner: 100% Polyester
100% Windproof fabricPit zip venting; Exposed, Vislon center front zip
Zip in compatible integration with complementing garments from The North FaceAdjustable Velcro cuff tabs; Covered, secure zip hand pockets
Attached, fully adjustable hoodHem cinch cord; Outer Shell: DryVent 2.5L 95% Polyester, 5% Elastane with durable water repellent DWR finish
Last update on 2023-09-11 / Affiliate links / Images from Amazon Product Advertising API
Patagonia Snowbelle 3-in-1
The Patagonia Snowbelle offers a fully insulated package that doesn't weigh as much as some of the other leading 3-in-1 jackets. Like the ThermoBall Snow Triclimate, the Snowbelle is best for winter sports like skiing and snowboarding, as it comes with a (removable) snow skirt around the hip, and the hood is designed to fit over a helmet.
Another nice feature is that the inner layer is reversible—with both quilted and smooth layers—so it can be worn in multiple orientations. It also comes with pit zips, allowing for heat venting as needed.
As with many other Patagonia products, the Snowbelle is constructed from mostly recycled materials, making this a sustainable clothing choice.
Pros
Relatively lightweight: 2 lbs 15 oz for the men's version, 2 lbs 8.7 oz for the women's

Extra features tailored to winter sports

Shell layer is 70% recycled materials; Insulated layer is 90% recycled materials

Both layers are water-repellent

Synthetic materials will retain insulating power when wet
Cons
On the more expensive side. MSRP: $399

Not as well-suited for use outside of winter sports

Not the most stylish option
Columbia Bugaboo Interchange 3-in-1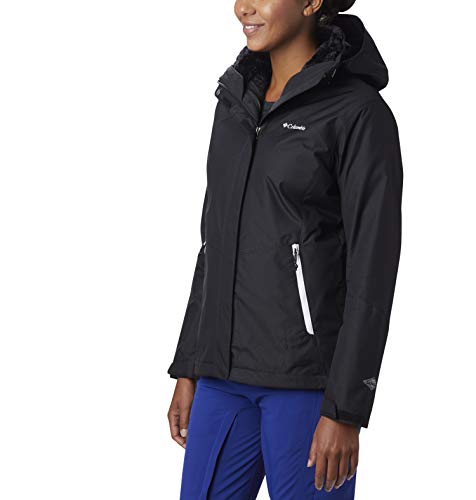 The Columbia Bugaboo Interchange 3-in-1 offers a well-thought-out combination of an inner fleece layer that attaches directly to its outer waterproof shell.
The Omni-Heat Thermal Reflective technology used in the fleece construction offers a little more warmth and insulating power than a typical fleece, but offers the benefits of increased breathability that can be a little harder to come by with 3-in-1 jackets that don't use a puffy layer as insulation.
The trick is its usage of little sliver dots that help to keep in the heat that your body has already generated, giving a little more protection than just the fleece material. That said, the Bugaboo still may not be able to compete with the thicker puffy insulated layers offered by the North Face ThermoBall, for example.
If you're a warm-bodied person, or plan to use this system outside of intense mountain storms, but, it should hold up well. Note that some users report issues with the fitting of the sleeves, and match between the lengths of the insulating and shell layers.
If you can, try it out before you buy to see how it fits on you.
Pros
Omni-Heat Thermal Reflective fleece

Easy to integrate insulating and shell layers

Affordable pricing, with an MSRP of $180
Cons
Less protection against extreme cold

May not fit everyone well
Columbia Women's Bugaboo II Fleece Interchange Winter Jacket, Waterproof & Breathable, Black, X-Small
OMNI-HEAT: Our patented Heat Reflective garments are the ultimate body heat management system for outdoor performance. The interior lining consists of our metallic dot pattern designed to retain heat, while the breathable fabric dissipates moisture
OMNI-TECH: This proprietary technology provides air-permeable protection that's waterproof and breathable, keeping mother nature's elements out, at the same time allowing the inside to breathe, keeping you dry and comfortable no matter the conditions
COMFORTABLE WINTER JACKET: The Columbia Women's Bugaboo II Fleece Interchange Winter Jacket is the perfect multiple-use winter coat. The zip-in interchange system is easy to configure for different winter weather conditions
CLASSIC THREE-IN-ONE DESIGN: This women's winter coat is the classic 3-in-1 solution. It features a waterproof outer shell and a warm inner fleece layer that can be worn separately or together for maximum protection
WATERPROOF AND BREATHABLE WINTER COAT: Made with advanced technology materials including reflective elements, a removable and adjustable hood, and critically seam-sealed, this men's weather jacket will keep you incredibly comfortable and dry
Last update on 2023-09-11 / Affiliate links / Images from Amazon Product Advertising API
Marmot Sugar Loaf Component 3-in-1
The Marmot Sugar Loaf has many features that set it apart from the earlier jackets. It is a very lightweight garment, weighing just 1 lb 12 oz for the men's version and 1 lb 9 oz for the women's.
This makes it a great option for those who are looking for a 3-in-1 to take on backpacking or camping trips where you need to carry your gear for long distances. The insulation is a little lighter than some other 3-in-1's, making this better suited for more mild outdoor conditions (late fall, early spring, or less-severe winter weather).
It has additional protection against rain, with heavy-duty GORE-TEX polyester in both the insulated and shell layers. It's also fully seam-sealed so there won't be any leaks.
Pros
Very lightweight, at 1 lb 12 oz for the men's version, 1 lb 9 oz for the women's

Solid rain protection

Removable hood

Powder skirt
Cons
The smaller hood might not fit a helmet underneath

More expensive than other options, with an MSRP of $425

Less warm than other 3-in-1's
North Face Arrowood Triclimate 3-in-1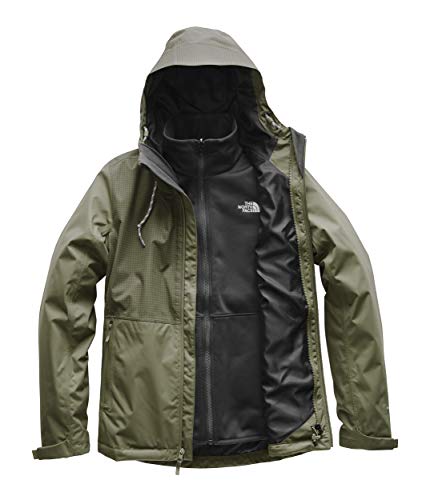 The North Face Arrowood Triclimate offers consumers a great value option, coming in at a lower price point than most competitors. This package is a little bit lighter in design, with a fleece serving as the insulated layer, rather than a full-weight puffy jacket.
As a result, like the Marmot Sugar Loaf, the Arrowood Triclimate is really geared toward more fall and spring conditions, rather than full-force winter chills. It also doesn't come with as much protection around the waist.
But the lighter insulation and reduced coverage also comes with weight savings, and the entire package clocks in at just 1 lb 15.8 oz for the men's version, and 1 lb 10 oz for the women's.
Pros
Very affordable

Very lightweight, at 1 lb 15.8 oz for the men's, 1 lb 10 oz for the women's

Good for late fall or early spring weather
Cons
Less insulation than other 3-in-1's

Will still require purchasing a puffy to have full winter protection

Reduced midsection coverage
Last update on 2023-09-11 / Affiliate links / Images from Amazon Product Advertising API
Why 3-in-1 Jackets Aren't for Everyone
Although 3-in-1 jackets offer the convenience of having insulating and shell layers that are designed to be paired with each other, they are not for everyone. One major downside of 3-in-1 jackets is that you have less choice in the features at each layer.
You may really like a particular puffy jacket from one manufacturer, and a different shell layer from a different company. By opting for a 3-in-1 package, you are stuck with the particular collection of features put together by that single maker.
There can also be issues paring 3-in-1 jackets with other parts of a layering system.
For example, say that you want to put on a fleece, puffy, and shell layer on top of your base layer. If the 3-in-1 you purchased has a fleece and shell pairing, you may not be able to easily fit a puffy between them.
A final concern to bear in mind is that it can take a few extra steps attaching and removing integrated layers from one another. If you like to quickly throw on or rip off your layers to keep moving, a 3-in-1 jacket may not be the best option for you.
(That said, you can always forego the attachment mechanisms and just wear the layers independently, but then you aren't making use of some of the features you paid for in the 3-in-1 jacket.)
So, while the promise of 3-in-1 jackets is their versatility and tailored pairings, this may not hold true in all circumstances. It's important to evaluate the product in the context of the rest of your preferred layering system before making a final decision.
If possible, try on the 3-in-1 while wearing other garments you might want to pair with it. Also check out the single-use garments individually to see if there are any features you like that might not be available in an integrated 3-in-1 package.